Business transformation doesn't come from comfort zones.
That's why our 14th annual Convergence Summit will inspire you to break out of yours and find fresh ideas, practical solutions and hands-on strategic advice that will help your business to innovate now.
A day of insights and fun, the Summit promises to be another energising event for UK technology and business leaders in search of better ways to work, serve and connect with the world!
The Summit was a brilliant networking opportunity and offered a great setting to meet and chat with peers from across different industries to exchange ideas.
Keynote Speaker
Anthony Tasgal
Trainer, Lecturer, Author, Communications Strategist & Principal Advisor for CIO Connect Hong Kong
40 powerful minutes of examples, questions and ideas that will have you put your head over the parapet and discover how you can use behavioural economics and the power of storytelling to influence technology success!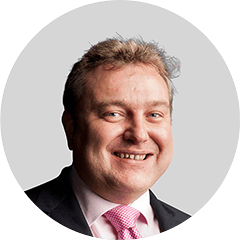 Jonathan Sharp
Sales & Marketing Director, Britannic Technologies
The communications visionary that helps you drive business innovation, integration and change into your business – without scaring off the stakeholders.
What's On?
Convergence Summit at AJ Bell features a series of thought-provoking and highly relevant business & technology presentations from specialist speakers and experts. It's your ticket to the latest thinking in communications (and) technology, delivered by the brightest minds in the industry!
Registration, Breakfast & Exhibition
Welcome Address
Keynote Presentation
Avaya Insights
Britannic Insights
Coffee & Exhibition
TechTalk Sessions 1
TechTalk Sessions 2
Lunch & Networking
Mitel Insights
Microsoft Insights
Food for Thought with Jonathan Sharp
1-2-1 Meetings & Tours
Close
TechTalk Programme
Our TechTalks are designed to stir your curiosity about specific technologies and services that can help your organisation improve its business processes, customer service through the contact centre and underlying network infrastructure.
In each session, expert speakers will discuss real-world issues, offer practical solutions and answer your questions.
Explore the sessions in more detail below!
11:40 - 12:15 Sessions

Mobile First Communications, Martin Bitzinger, General Manager Enterprise, Mitel
Mitel innovates at the intersection of mobile, enterprise and the cloud to develop new technologies. Its IoT reference architecture allows you to leverage the Mitel products and solutions you have today and take on tomorrow. It enables digital transformation and creates new customer value. Mitel's real-time collaboration gives machines a voice by enabling connectivity of data, ability to analyse and create rules based scenarios to coordinate an effective response to each situation. Mitel's Embedded Communications leverages API and SDKs to allow developers to embed real-time communications into vertical-specific business SaaS applications allowing end-to-end work order management, better response to urgent customer requests, and improved service levels to customers. Hear about some of these new developments and how Mitel integrates them into everyday business communications.

Enterprise-Wide Digital Transformation, Ian Woolner, Partner Development Manager, Microsoft
Ian will expand further into the topic of Digital Transformation which touches all of us in different ways, be it using up-to-date software to be more productive on any device, anywhere or reinventing traditional processes to make them relevant in the digital era. These exciting extremes will be explored along with a raft of scenarios in-between. The session will include security as an underlying thread and promises not to dwell too much on GDPR!
12:25 - 13:00 Sessions

The New Network: Facing the Future of IT and Telecoms in a Blurred Environment, Alex Chapman, Senior Account Manager, Britannic Technologies
Driven by customers and corporate strategy, the rapidly increasing blurring of networks and also of business and personal applications within the workplace and customer contact is not only putting huge pressure on many existing network environments, but also on the shoulders of IT departments to ease the contention for bandwidth in the short term and build infrastructure that can adapt in the long term. Alex will take a strategic view on networking, discuss the most common challenges businesses face today and suggest approaches to pre-empt future network demand and growth.

Introducing Avaya Breeze and Oceana, Gregg Widdowson, Digital Engagement Lead, Avaya
A key element in any digital transformation strategy is having a modern, open platform that allows companies to adapt quickly to market changes and to adopt new technologies across the entire Enterprise. Come and see how the Avaya Breeze platform provides businesses with agility to meet their communication challenges and how Avaya is using it to transform Customer Experience with Avaya Oceana.
Why should
you

attend?

To get answers to the BIG questions. 

How can communications technology be applied to meet business requirements? How can you digitise operations and strike a balance between raw performance and UX/ CX goals? How to create enough positive momentum for users and customers to tell positive stories about your brand and organisation? Where do I find the funds for transformation projects?  

Now in its 14th year, Convergence Summit gives you unrivalled access to the latest thinking in the telecommunications industry. Supported by senior technology and business experts from Britannic's partner community, it is your destination for insight into communications technology, UC, CX and Connectivity, and for ideas that transform business.

Are you ready to redesign your business for the future?
Who should attend?
IT Directors & Senior IT Managers
Head of Digital Transformation
Head of Customer Experience
Marketing Directors & Sales Directors
Finance Directors
Where will Convergence Summit take place?
Convergence Summit 2017 will be held at AJ Bell Stadium.
AJ Bell Stadium, 1 Stadium Way, Barton-upon-Irwell, Salford, Greater Manchester, M30 7EY
Can't make it to AJ Bell? Join us in Ascot!
Convergence Summit will also take place at Ascot Racecourse, Berkshire on 9th November 2017.
What time does it start and finish?
Date: 23rd November 2017
Registrations & Exhibition: 8:00am
Welcome Address: 9:40am
End: 4:00pm
How much does it cost to attend?
Convergence Summit 2017 is FREE to attend for qualifying professionals.
Please note: Tickets are limited to four colleagues per company.
Location:
AJ Bell Stadium
1 Stadium Way
Barton-upon-Irwell
Salford
Greater Manchester
M30 7EY
It was a great honour to be involved in the Convergence Summit. Bringing together best in class unified communication providers and turning them into world-class solutions is what separates Britannic from the rest. That's why they continue to be a key strategic partner for Markerstudy Group.
Not sure yet?
No worries. Sign up below to keep up-to-date with the latest event info as it's released.
This event has now passed.
If you'd like to book a demo, however, or would like to meet us to discuss your Contact Centre & Customer Service requirements, drop us a line and we'll arrange!