With digital transformation happening all around, it's never been more important to ensure that your customer experience is seamless, throughout the customer journey.
Learn how your business can unlock the power of Conversational Artificial Intelligence (AI), Robotic Process Automation (RPA) and 'Smart Inboxes'. With these technologies you're able to create unified experiences across all the communication channels your business uses to talk to your customers. Whether that's voice, email, or social media.
Watch now
Deconstruct your digital transformation with our white paper
Disruptive times lay ahead. And for those willing to thrive with the changing times, there's the chance to lead markets and be the disruptor ion their industry.

Our white paper helps businesses to break down the subject of digital transformation into smaller, bitesize chunks that are easy to digest.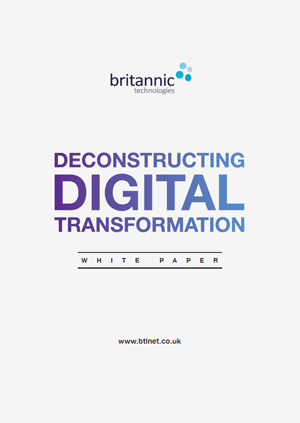 Start accelerating your digital transformation!
Book a FREE Digital Discovery Session with us to start to formulate a plan of attack for your digital journey. Together we'll review your business goals and challenges, considering how we can help you generate more revenue and deliver an improved customer experience.