A Solution Tailored
 

For

 

You

As award-winning experts in Mitel Contact Centre solutions, we're the perfect guides to work with you and identify, deploy and develop the best solution for your business. Built to complement the Mitel MiVoice Platform, Mitel MiContact Center is an omnichannel solution designed for single and multi-site organisations that want to offer intelligent and collaborative digital customer service.

We tailor and integrate your Mitel MiContact Center Business suite to meet the unique needs of your business, including advanced real-time reporting and intelligent call routing to improve customer experience. 
Empower Your Agents
Equip agents with a unique set of applications to handle customer enquiries quickly and efficiently.
Voice, email, fax, SMS, chat and social communications
Outbound dialling and messaging
Speech-enabled IVR routing
Multichannel workflow routing
CRM integration
Empower Your Supervisors
Empower supervisors with intelligent reporting and training tools to enhance output and improve business processes. 

Real-time, historical and customisable reporting

Call recording

Optional workforce management add-on

Service and experience you can trust.
"Mitel and Britannic Technologies have enjoyed a successful long-term relationship underpinned by the added value the company brings to our joint customers. Britannic's strategic vision and committed partnership attitude to customers ensures that its team delivers the right solution - not just to solve business issues, but to help customers develop their organisations for the future. Too many solution providers focus on the technology and not on improving the business of their customers. This is where Britannic is different." 
Discover Mitel MiContact Center Business
Today's customer has changed – have you? Millennials make up one third of the population, and there are now almost as many mobile phones in the world as there are people. Together with Mitel, we resolve the challenges this shift is bringing to the way your business delivers customer experience.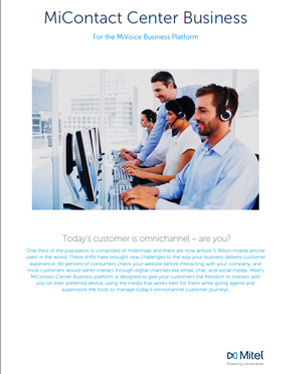 Ready to see MiContact Center in action? Book a free demo!