Microsoft's powerful collaboration and communication tool with Britannic's cloud experts' managed service wrap.
Skype for Business is a powerful tool created to meet the demands of today's fast-paced business world. Designed with Microsoft's Practical Guidance for Cloud Voice in mind, Britannic Embrace is the service wrap that puts the delivery and management of your Skype application into the hands of cloud experts.
Skype for Business offers instant messaging, presence, voice, audio and video conferencing as well as content sharing, to eliminate the need for traditional telephone and conferencing systems. It integrates with the familiar office tools of Office 365, providing easy, effective and secure communication and collaboration with customers, suppliers and partners.
View the Britannic Embrace Product Sheet
Discover the key features and benefits of Britannic Embrace for your Skype for Business platform!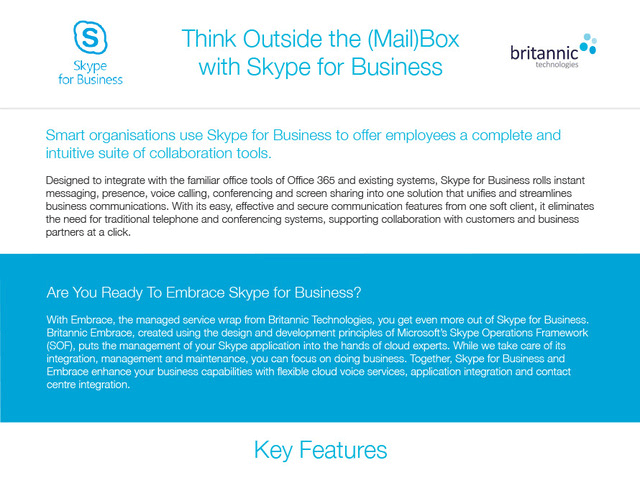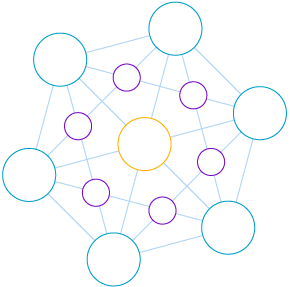 We concentrate on your communications, so you can focus on business.
Britannic's expertise goes beyond collaboration, helping you to extend your communications with complete solutions tailored to your needs. Contact centre, call recording and networking solutions are all at your fingertips. Britannic gives you the choice and flexibility to operate how you choose. With 30 years' experience in voice communications and workplace technology, you can be confident of the result.
Work like you're all in one room, even when you're not.
Calling — Call Skype to Skype, call mobile or landline, and create group calls
Messaging — There's instant messaging, and messaging via text, voice, and video, with Mojis and emoticons
Record — Audio and video calls
Organise — Meetings and calendars
Sharing — Send files, photos, videos - share screens, presentations, contacts
Conferencing – Hold dial-in conferences with up to 250 participants
Phone System and SIP Calling
Skype for Business and SIP Calling replace traditional on-premises telephone systems, providing great call quality alongside all the functions essential in the modern workplace:
One-touch dialling
Call delegation and answering
Interactive creation and collaboration
Call forwarding, tracking and recording
Enhanced authentication and security
Audio Conferencing
Skype for Business makes online meetings a reality.
Create meetings with dial in codes
Enable collaboration from virtually any device
Toll free / local number dial in
Integration with Office 365 Tools
Office 365 incorporates the productivity tools for the modern workplace, combining Office favourites with next-generation applications, including Skype for Business.
With over 85 million users worldwide, Office 365 is fast becoming the productivity suite of choice for SMBs to improve communication, collaboration, efficiency, and productivity.
Contact Centre Solutions
In partnership with Enghouse, Britannic technologies delivers contact centre solutions for the Skype for Business platform. Our solutions support a comprehensive range of interaction channels and CRM integrations, inlcuding
Voice
Email
SMS
Web Chat
Social Media
WebRTC
AI and Automation
Embrace Skype for Business
Embrace is a service wrap that aligns service delivery with your business objectives, giving or taking as much control as you require. Our highly skilled experts can design, build and manage your day-to-day communications and network operations. It frees up your team to drive IT strategy and business innovation forward.
Gain all the benefits of Skype for Business without any of the complexity:
Fast installation
Added security
Flexible contract terms
Option to integrate with on-premise solutions
View the Britannic Embrace Product Sheet
Discover the key features and benefits of Britannic Embrace for your Skype for Business requirements.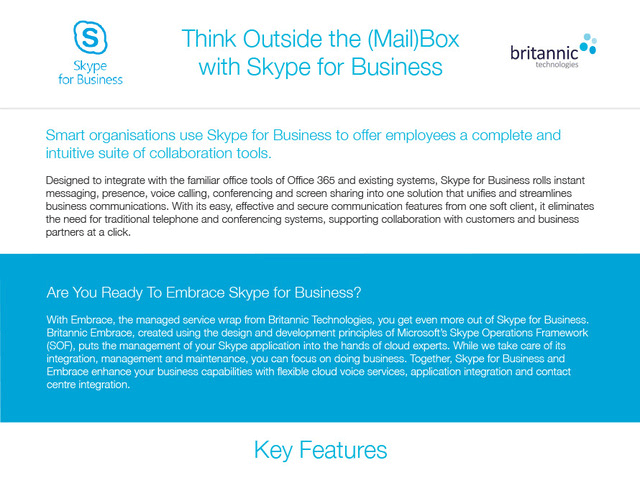 Why Choose Britannic Technologies?
Cloud voice expert and systems integrator with 30 years' experience in UC, real-time communications, networking and contact centre technologies, Britannic Technologies builds strong technology partnerships with customers across 27 countries worldwide to innovate communications and transform the way they do business. Quality and security accredited (ISO 9001, ISO27001 and ISO22301), Britannic designs, delivers and develops ICT services with its own SIP and cloud platform and supports customer solutions with premium engineers and IT developers and manages the whole system for you with its cloud wrap, Embrace.
3 Steps to Embrace Skype for Business
Embrace for Skype for Business incorporates a three-stage process based on Microsoft's Practical Guidance for Cloud Voice. Following the steps will help you get the best from Skype for Business.
1. Envision
Envision — We are with you all the way from our initial meeting through to discovery sessions and detailed planning workshops
Assess — Our experts undertake a full evaluation and readiness assessment of your network and advise on licensing required and best practice set up, to support your goals
Design — We detail a phone system and SIP design, and create a comprehensive adoption plan
Prepare — We remedy any networking issues and complete your deployment planning
We schedule our Prince 2 qualified Project Management Team ready for "Onboard"
Deploy— We put in place the Office 365 and conferencing components plus the calling plan, and onboard individual users, testing for quality and reliability and remedying any issues
Adopt — Through workshops, videos and training we encourage cultural adoption and application to business processes, monitoring usage and service quality
Enhance — We ensure your service is always up to date.
Monitor — Our high-quality, reliable management system means you receive high quality, reliable, proactive service
Report — Reports help you make informed planning decisions, based on capacity and utilisation
Support — Tailored support means user issues are swiftly resolved
Run — Maximising quality and reliability, we keep your users up and running and the service up-to-date with version updates and upgrades
Book your free consultation!
Book today and learn how you can supercharge your communications with Skype for Business and Embrace!