Connect the Dots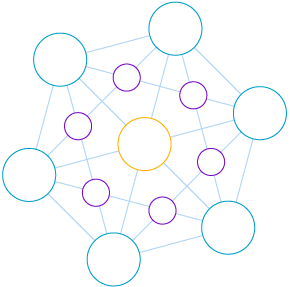 Connect your organisation, people, and systems securely and reliably with our business connectivity options. From fully managed network services, to cloud we've got you covered.
An agile and flexible network is a key strategic asset in today's world. Our networking solutions help you optimise performance, availability and efficiency across WAN, LAN, Wi-Fi and cloud architectures, supporting your strategic goals and evolution.
From point-to-point connectivity to an adaptive next-generation infrastructure design, we optimise, design, build and manage your voice and data network, so you can focus on delivering in higher value business areas. Enhance and upgrade your network with a range of connectivity options from private DSL to high-speed Gigabit Fibre connections to give you reliable and scalable delivery of all your voice and data services.
Business Connectivity Services
Connect your offices, homeworkers and data centres with a range of connectivity options and a converged business-grade network that scales and adapts as your organisation changes, supporting the introduction and effective delivery of new applications and services.
Simply Connected
With us you choose high-quality secure connectivity to enhance the services that run over your converged private network. 
You have the choice of different connectivity options including Private DSL, FTTC, EFM, Ethernet circuits, dark fibre, VPLS networks, data centre interconnects and leased line services to give you high-speed connections from site to site and into our high-capacity MPLS core. Whatever option you choose, our close relationships with leading Tier1 carriers give you superior network quality and commercial terms. You can be sure of your network successfully handling concurrent data, voice and video traffic. 
Improve resilience and capacity
Achieve savings
Deliver new OTT services
Access cloud services securely
Connectivity into existing WANs, data centres and public clouds (e.g. AWS)
Designed, delivered and managed by a single supplier
Talk To Us
Start your business connectivity journey today. Fill out the form below and select the area(s) you're interested in discussing with the team! We'll get back to you asap to book in a 15-minute discussion (or longer if required!).