Your customer experience amplifier.
Non-integrated telephony sucks.
That's why our Computer Telephony Integration (CTI) solution netCONNECT is here to save the day.
Our solution helps improve contact centre productivity by connecting your communications platform with your CRM and software applications to unlock a smooth information flow. Your telephony-related expenses will start to diminish as productivity rises, reducing the cost to serve.
But most importantly the customer experience will be amplified. With an increased first call resolution rate, speed to answer the call, improved personalisation and reduced number of interventions it takes to accomplish a task.
netCONNECT integrates with over 60 phone systems and off-the-shelf software applications. Putting information, intelligence and fast communication at your end-user's fingertips. We're talking database screen pops, click-to-dial, text messages from your email to mobile numbers and embedded voice call buttons on your website, to name a few features.
Critical to company growth
The ability to integrate telephony with the rest of our business systems and the CTI software that Britannic have developed for us has been critical to the growth of our company.
Get to grips with netCONNECT
We know our solution is great. Find out for yourself by downloading the netCONNECT product sheet. Learn how it increases you revenue by reducing incoming call times, improves call personalisation and directs customers to the right person the first time, every time.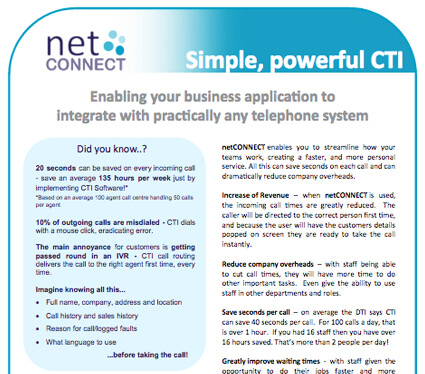 Britannic works closely with us to ascertain our requirements, and the managed service gives me peace of mind that I don't have to budget for the latest technical skills and technology. The solution is the right fit, providing us with scalability, flexibility and, importantly, results: ROI, cost savings and constant customer service improvement.
Here's how netCONNECT helped Trailfinders
Our client Trailfinders were struggling with an expensive and increasingly complex telephony model. We provided them with a tailored solution that included netCONNECT, leading to 5 million calls now being effectively handled per year.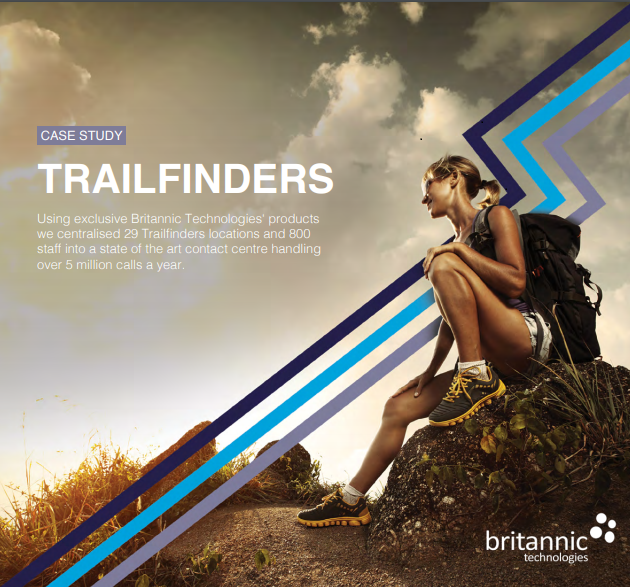 Time is money
Per week saved through implementing CTI software
Less calls misdialled
saved on every incoming call