Thinking about hosting your business communications in the cloud? With Mitel UCaaS, you add flexibility and scalability to your core business tasks, speed up system upgrades and cut IT support time.
Mitel UCaaS is Mitel's simple cloud delivery model for all your business communication needs across offices sites. It allows you to tailor and scale UC modules as when your business needs to and is a reliable way to offload system management and maintenance to expert engineers. Your UCaaS solution can be managed through Mitel or Britannic, who will deal with any system changes proactively. Now you won't need to wait around for hiccups to be fixed because we prevent them from happening in the first instance.
Derived from Shared Services
Save money with shared hardware and support, all delivered from a secure data centre with 24/7 support from our technical specialists.
Improved Business Agility
Ideal for organisations with multiple offices, home and mobile workers. UC tools with added support for smartphones and tablets plus optimised licences for different user types boost teamwork, productivity and mobility.
Simpler ICT Management
Support is proactive and responsive. With agreed service levels your UC platform and apps, configuration, updates and upgrades are taken care of, so no need for specialist in-house technicians.
Financial Gains
Benefit from the latest technology quicker by shifting from CapEX to OpEX, only pay for the licences and services you consume on a predictable price per user per month basis, and integrate mobile devices to reduce call charges.
7 Reasons to Deploy UCaaS
UCaaS is a proven cloud-delivered service that provides voice, chat, video, presence and conferencing, plus a robust contact centre for distributed businesses. It is your single access point for all business communication needs. See why others are moving to the cloud.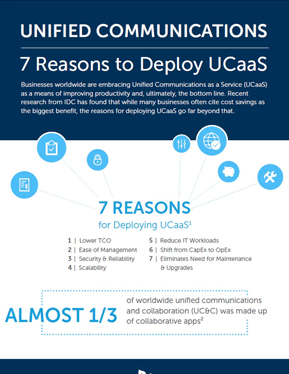 Mitel MiCloud Enterprise Unified Communications
Mitel MiCloud Enterprise UCaaS offers large businesses a feature-rich, pay-as-you-grow communications solution with hardware, software, infrastructure and support, all rolled into one monthly subscription fee.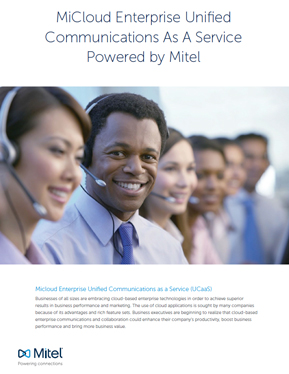 Book a Discovery Session!
Our Technology Discovery Session opens your eyes to the untapped potential of your existing communication technology and guides you in evaluating new ICT solutions and services for the Digital Age.