Sunny With A Chance Of Clouds
Ever wondered how Cloud adoption amongst customer service providers is really coming along? Our new survey data reveals what CIO & Co. think about moving voice communications into the Cloud.
With the contact centre maturing, for many it now incorporates email, web chat and social media, providing versatile avenues for customers to contact agents. And while customer expectations are rising at a staggering pace, organisations have only slowly taken to creating a suitable IT infrastructure that supports the speedy deployment of numerous applications and their integration with voice services.
Fortunately, as the move into the Cloud continues to prove transformational for adopters, even sceptical decision-makers have fewer and fewer misgivings about commonly cited security risks, system reliability and successful system integration.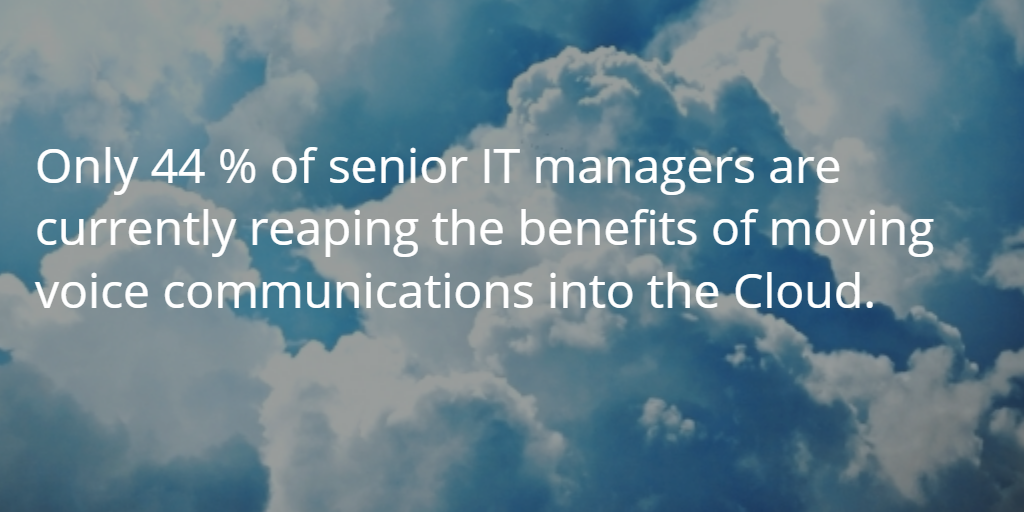 These evolving attitudes about migrating voice services into the Cloud were the focus of our latest "Contact Centres and the Cloud" survey, which polled IT decision-makers across businesses ranging from 50 to 5,000+ employees. It reveals how CIOs, IT Managers and their teams feel about transferring control over an operation as mission-critical as their organisation's contact centre to a service provider.
To gain an insight into the sentiment amongst decision-makers, we looked at 3 main factors including deployment reasons, barriers and service provider expectations.
Some of the major findings: Senior Managers are now aware that Cloud technology can help to transform their businesses through reduced overheads, increased agility and consequently improved customer service delivery in the contact centre, directly impacting the bottom line. 84% of respondents confirmed that they understood the Cloud proposition, which clearly proliferates from the use of Cloud in the consumer world where stats showed that 80% of them used the technology in their private lives.


Business Agility and Cost Savings Drive Cloud Take-Up
The uptake across organisations continues accordingly as contact centre owners and operators seek to inject enhanced agility into business processes and sharpen their firms' competitive edge. In fact, 44% of decision-makers surveyed have already moved their organisations' voice communications into the Cloud. Over half of those reported migrating their customer facing contact centre and internal phones to achieve efficiencies. While cost savings are the main driver for adoption at 60%, the survey shows that increased agility, speed of deployment and integration as well as resource efficiency are equally important factors. Recognising these benefits, Cloud adopters have also moved internal contact centres (45%) and internal IT helpdesks (32%) over.
In total, 39% of IT managers polled rely on partially or fully hosted solutions for their contact centres today. Impressively, however, 84% of respondents whose organisations run an on-premise contact centre would consider a cloud-based model, signalling us their positive attitude towards a future of cloud-based contact centres.


Security Remains #1 Adoption Barrier
Still 48% remained concerned about security issues and 38% worried about the reliability of Cloud-based systems, closely followed by doubts over how to manage such a solution in-house (19%). Another 19% admitted not understanding how the Cloud worked. Even if managers had warmed to the idea of reaping the benefits of cloud-based voice communications, over two thirds of respondents stated security and data protection as the two most common barriers to Cloud adoption, ahead of migration risk or system scalability, for example.
It is reassuring to know, however, that only a minority is hesitant to outsource the management of their communications infrastructure to a telecoms partner - a whopping 82% indeed have been found to trust service providers. What aspects were they looking for in a respectable service provider? Clearly, a strong pedigree, a well-defined service-level agreement as well as transparency came out on top of the list of must-haves.


Beyond Doubt
Although 56% of businesses have not yet embraced the Cloud model, those that are hanging on to their existing on-premise voice infrastructure are starting to see what benefits they are missing out on. With a growing number of contact centre projects being implemented successfully, chances are that more businesses will want to start to exploit the commercial benefits of cloud-based voice solutions going forwards.