We're here to help, short and longer term
During this unprecedented time it's important that your workforce have all the tools needed to do their job whilst working remotely.
Britannic and partners have come together to offer our best solutions to help your business run smoothly and effectively.
Harmonise and Modernise.
Deliver better experiences, adapt to changing environments and get more done.
Our transformation pillars centre around harmonising the way humans and technology work together, empowering your customers to self-serve and enabling your business to work in a more agile way.
Pillars of Transformation
Implementing Digital as a Service (DaaS) offerings, our solutions will tackle your biggest business problems. Workplace Modernisation brings together your disparate systems and processes, but in light touch, low code way delivering efficiencies and better ways of working you never thought possible.
The four pillars underpin our core areas.
We're the Solutions People.
Problem solving is what we do.
We solve business problems. Any problems. There's more to us than just being a technology company. We understand what makes businesses tick and have some amazing plug in and go technologies that will set your business apart from the competition. Set us the challenge and see what we come up with!
Deconstruct your digital transformation with our white paper
Disruptive times lay ahead. And for those willing to thrive with the changing times, there's the chance to lead markets and be the disruptor ion their industry.

Our white paper helps businesses to break down the subject of digital transformation into smaller, bitesize chunks that are easy to digest.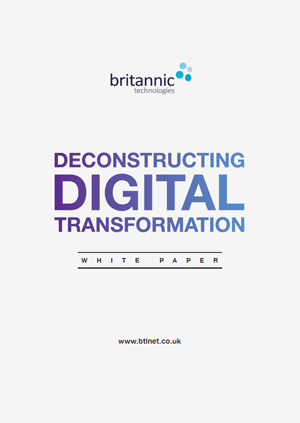 Thought provoking insights. Straight to your inbox.
Subscribe to our blog to get the latest updates from Digital Transformation to the contact centre, and beyond.