Mitel Platinum Reseller Partner
Britannic Technologies, a Mitel Platinum Reseller Partner, delivers a comprehensive Mitel maintenance and support service that can be tailored to meet the exact requirements of your organisation. Our response is quick and efficient. In fact, our times are recognised as far superior to the industry norm and are regularly monitored by BSI to ensure that you receive the highest level of customer service.



Why choose Mitel through Britannic
24/7 We operate a 247 help desk
97% Customer satisfaction
99.999% Core network availability SLA
20 years' Mitel experience
Mitel Maintenance Brochure
Read about how our Mitel managed service and maintenance offering can help you manage your Mitel system.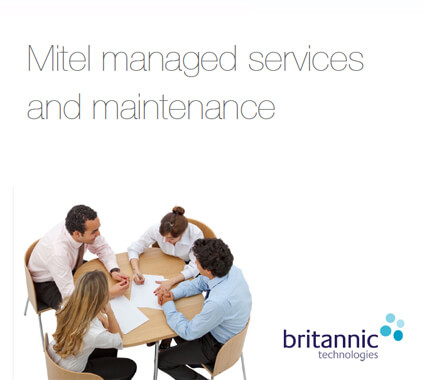 Appointing Britannic as our maintainers has been a really positive experience. We get personalised service, quick turnaround, continuity of engineers and an easy way to log our tickets through their customer portal Czone. They are proactive, helpful and highly experienced. Everything we could want from a maintainer, but weren't getting before!
Britannic have proved from day one that they are more than just a market leading support company.  On top of being a support provider and partner, helping me reduce costs while still improving services, they are the friend that we all need from time to time.  If we have a bit of a problem, or want a bit of advice we just need to pick up the phone and ask them.  That sort of support is priceless.
8 Reasons to work with Britannic Technologies
Discover how you can benefit from excellent support with expert Mitel engineers by switching to Britannic Technologies.