Move to Cloud and work anywhere, anytime.
Since Britannic's deployment of one of the first Mitel cloud communication solutions in the UK, our team has helped hundreds of businesses more to move to the cloud. Businesses with a mobile workforce, homeworkers, fast-changing user numbers or plans to limit their office footprint all benefit from the ease and cost-effectiveness of cloud-driven business communications.
Why choose Cloud?
No unpredictable upfront expenses. You pay per month with transparent rates and costs.

Easily scales to any business size, as your business grows so can your Cloud solutions.

Integrated systems combining, voice, email, web chat, social media and collaborations tools. 

Highly skilled engineers to help regularly maintain and upgrade your system.

Cloud solutions increase productivity as employees can connect back to the office from anywhere.

Flexible plans and solutions mean you can tailor your Cloud services to suit you.
Why choose private cloud for your communications? What do you need to know about private cloud? And what are the next steps on your path? Before diving in, you must have the answers to these key questions. That's why we've prepared this handy guide to take you through the basics of private cloud communications and what you need to know before taking the next step.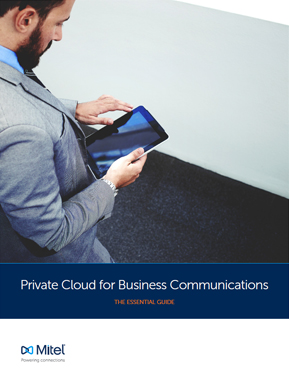 Cloud for everyone
The Mitel MiCloud product family makes cloud-based Unified Communications accessible to businesses of any size. Best of all, the MiCloud Enterprise, Business and Office editions can all be paired with advanced services including contact centres, video conferencing and CRM integration support.
Midsize organisations with 100 – 10,000 users can easily move to the cloud with the Mitel MiCloud Enterprise suite. Hosted in Mitel's data centres and consumable through an as-a-Service model, the product is based on Mitel's MiVoice Business and MiCollab platforms. For current users of Mitel VoIP products that means a super easy, low-risk move into a cloud environment.
Flexible and Scalable Cloud Solutions
One Bill
Get one bill for all your Mitel infrastructure, MPLS networks and SIP trunks for inbound and outbound calls.
Security and Peace of Mind
Cloud software is actually more secure than traditional, physical server hosted systems and should the worst happen, the data is always backed up. Mitel manages its systems from a fully managed, fully secure data centre giving you the extra assurance that your data is safe.
System Integration
MiCloud products integrate with third-party systems including Salesforce and Microsoft Office.
MiCloud Enterprise Brochure
MiCloud Enterprise brings mobility, simplicity and customer centricity to enterprise communications and collaboration. Created in the cloud with a mobility-first mindset, MiCloud Enterprise unifies communications and business applications into a single, seamless and secure solution designed to improve customer experiences and increase productivity.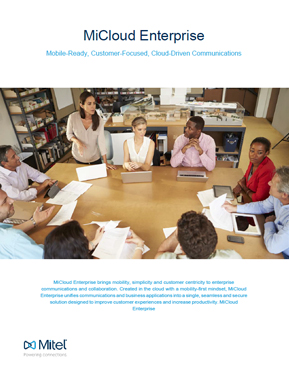 MiCloud Engage Contact Center Brochure
To give contact centre agents advanced UC services, MiCloud Contact Center simply integrates with the MiCloud Enterprise and Business suites, extending presence, chat and messaging, IVR routing and CRM integration into the call centre for fast inbound, outbound and back office interactions.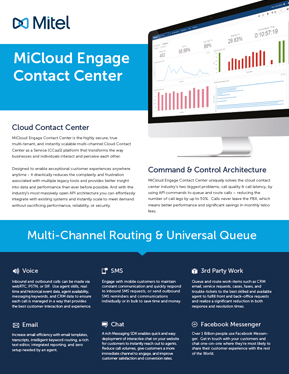 What Britannic brings

97% Customer Satisfaction
99.999% Core Network Availability
We're here when you need us. We provide support to your team 24 hours a day, 7 days a week, 365 days a year. Our engineers are nightowls and early birds.
Businesses flourish where there is mutual understanding and cohesion. With an open ear and personal service, we build close customer relationships and maintain them.
At Britannic we understand the importance of running like a well-oiled machine. It's what your customers expect from you, and what you can expect from our services. That's why we offer a Service Level Agreement (SLA) of 99.999%
Mitel like us, they really like us, and the feeling is mutual. We've supported our customers' Mitel cloud systems for 10+ years, helping the businesses of tomorrow transition into the future.
Interested in our wider Mitel offering?
Book a Discovery Session!
Our Technology Discovery Session opens your eyes to the untapped potential of your existing communication technology and guides you in evaluating new ICT solutions and services for the Digital Age.