How do you deliver beyond traditional expectations?
Customer communication has evolved. A result of the wider developments in smart devices and mobile-first approaches, there is now a requirement to connect with your customers on their terms while consistently providing a personalised and engaging customer experience throughout the various touch points of your organisation.
The perfect fit for large and global enterprises, Avaya Aura Contact Centre is the ideal omnichannel solution for your business to go beyond phone calls and engage with your customers seamlessly across phone, text, IM, email, chat and video all through one easy-to-manage unified platform.
Watch now
Our Avaya Aura Contact Centre solution White Paper
Sounds good doesn't it? Download our new Avaya Aura Contact Centre Solution White Paper to find out more.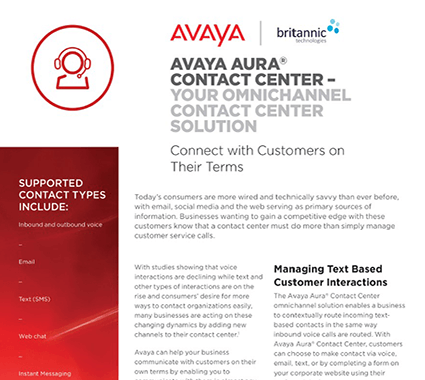 Deliver Consistent Service
Access historical and real-time screen-pop data to give agents advance knowledge of callers and provide more consistent customer experience with a deeper level of personalisation throughout your interactions.
Move away from repetition and regurgitation, show your customers that you know them and deliver the service they expect.
Reduce Cost to Serve
Expanding your customer interactions into lower cost channels, such as SMS/text, will help to reduce your overall call volume and related costs.
Provide Seamless Customer Experience
Avaya Aura allows your teams to manage multiple channels through a single agent desktop interface, unleashing your teams to engage with your customers in their favourite ways and to escalate interactions between channels without switching screens.
The Avaya Aura Platform Overview Brochure
View our Avaya Aura Platform overview brochure, providing an in-depth overview of this innovative platform and the tangible benefits it can bring to your business and customers.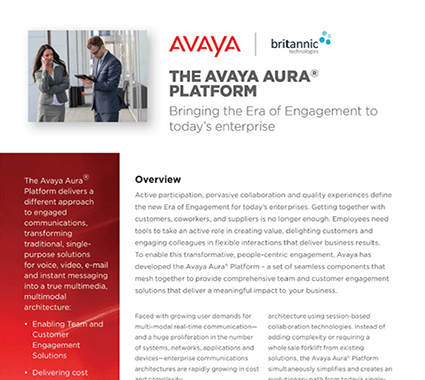 Let's Share Some Ideas
Whether you have a question, want to book a Discovery Session, get a demo or would like to meet to talk some more – drop us a line! We're right here.