Is your business ready to become part of the future?
Ami is a revolutionary Conversational AI that works alongside your team as a sales agent and customer service representative. She learns from having real conversations with customers and grows more intelligent with every interaction, responding fast and accurately to web enquiries. Set up on your website with only 12 lines of code, Ami will instantly begin to sell for you as if she had always been part of your company. Her aim is to not replace existing employees, but instead to bolster sales, lead generation and customer care by complementing your existing team.
Ami has inbuilt analytics dashboards whose data you can harness to help shape her behaviour and your sales or customer service strategies. Available 24/7 and always on-hand, she could become your best agent yet.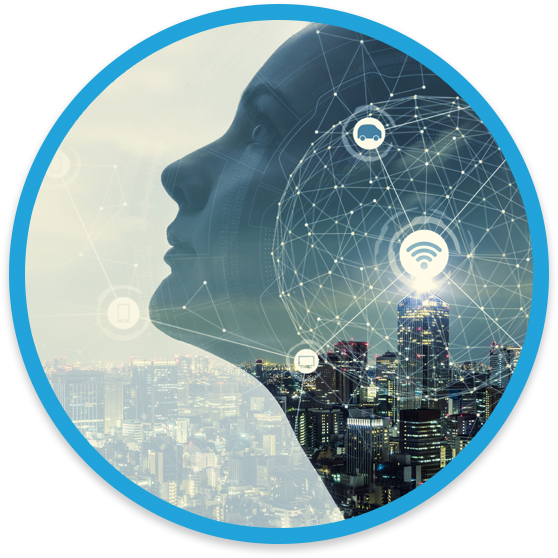 Natural conversation rather than clunky traditional chatbots.
Ami develops a style derived from your corporate tone.
Ami learns with every conversation 
She understands multiple questions at once, conversation-in-a-conversation and context.
Ami doesn't need energy drinks to pull all-nighters, she is awake and focused 24/7, 365 days a year.
Ami not only improves quality of leads through her own verification methods, but she also prioritises leads.
Ami increases sales through excellent customer service, knowledge and concurrent interaction handling.
Because Ami is an AI, her interactions are more natural and therefore more pleasant.
Ami is prompt. When she cannot answer a question, she will ask an agent or simply divert the call to one of your team.
Ami reduces customer waiting time and prioritises customer urgency.
Simply add a tag like you would in any analytics programme - this helps Ami report back any interactions.
Ami only requires 12 lines of code!
Ami will read your entire site for fast responses to customer enquiries.
of customer interactions will take place without human interaction by 2020 - Gartner
Conversational AI will save per year by 2022 up from £20m in 2017 - Juniper Research
by 2025 customer interactions powered by AI will be indistinguishable from humans - Servion
"We already have web chat."
"We have a small website."
"We are not big enough for this."
"We aren't ready for AI yet."
Ami works best with human counterparts, taking away mundane and repetitive tasks so agents can be utilised for more complex enquiries and provide a greater customer experience.
Ami can feed off hidden information so you won't need a full overhaul of your website. You can create hidden HTML pages in the back-end of your site for Ami to read.
Ami is 100% scalable and can work for as many or as few hours as you need her to. Our per-interaction-pricing means that you only pay for the amount she is used.
AI is now, it's the future and it's only getting better. Ami is a great way to future-proof your business and she is very simple to set up and integrate within your organisation.
Meet Ami
Ami is a revolutionary Conversational AI and the first digital agent that learns from having real conversations with customers and colleagues. She works alongside your employees and complements their tasks, applying her growing knowledge to respond to everyday customer enquiries fast and accurately.
WebRTC - Bring conversations to life.
Bring conversations to life with chat, video, web calling, co-browsing & content sharing straight from your website and mobile apps. No plugins, no downloads.
Our Webcall solution helps you meet your customers on your website or within your mobile app, simply by embedding voice and collaboration features in it:
Two-way video and audio communication allow your agents to solve customer issues in real-time within the web context.

Co-browsing and content sharing help your team to take control of the customer journey for upsell, cross-sell and effective resolution right there and then. 
Webcall is built on WebRTC, an open API technology that puts real-time communication capabilities into web browsers via JavaScript APIs. Using as little as three lines of code, Webcall integrates with your web platform and connects into your contact centre to allow your customer service agents to manage all web interactions. To guarantee Quality of Service and security, all real-time voice, video and data streams are encrypted and run over your business network rather than a public internet connection.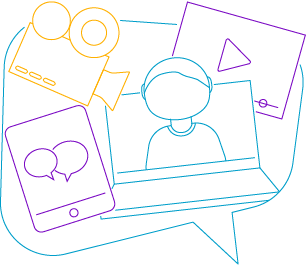 Download the Webcall Product Sheet
Discover key features and benefits of using Webcall for online customer service.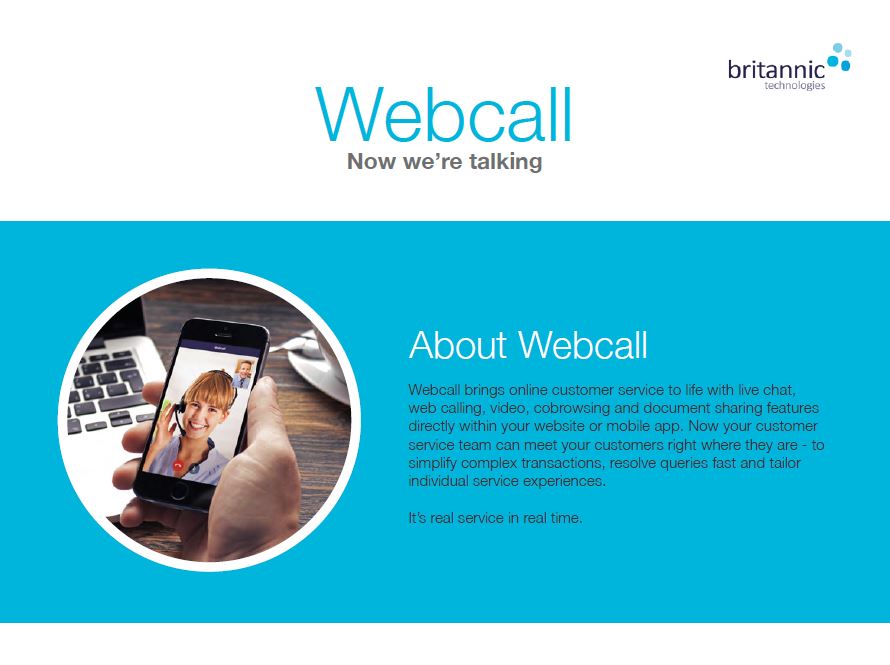 Book a free demo!
There is no better way to learn more about our intelligent applications than to see them in action! Drop us a line and we'll arrange a demo for your team.