Is enterprise-wide collaboration a challenge for you?
With disparate systems and teams across multiple geographies, the ability to communicate effectively and efficiently in a large organisation is a challenge.
Avaya Aura was designed to overcome the challenges of dispersed teams by providing advanced unified communications and contact centre capabilities that securely connect people, data and devices. Aura in combination with Avaya Equinox™ delivers voice, video, data and web communication services to your teams wherever they are.
Watch now
Collaboration
A sophisticated combination of smart technology and intuitive communication combines to give you, your teams and customers a truly collaborative experience.
Mobility
Mobile isn't an afterthought for Avaya Aura, it's at the very core of the system. Now you can chat internally and externally all through one user-friendly, cohesive platform.
Continuity
Avaya Aura and Equinox bring it all together. Delivering voice, video, data and web communication (powered by WebRTC technology) across one platform ensures you can retain continuity across interactions and drive positive engagement.
The Avaya Equinox Experience
The Avaya Equinox suite brings the Aura platform to life. Providing a communications experience that works around you and your employees' individual work styles, it puts people at the heart of business communications.
Allowing for simple, context-driven engagements, Equinox is the next level in UC collaboration with inbuilt applications and functionality that empowers your teams to communicate and work without borders, across different desktops and mobile devices and locations.
Watch now
Avaya Equinox Experience Product Sheet
Sounds good doesn't it? Download our new Avaya Equinox product sheet to find out more.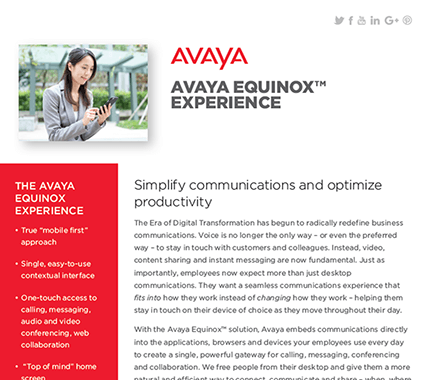 Let's Share Some Ideas
Whether you have a question, want to book a Discovery Session, get a demo or would like to meet to talk some more – drop us a line! We're right here.