A Solution Tailored For You
If your contact centre has up to 1,000 users, we can customise Avaya's Contact Centre Select solution to suit your environment.
Built to complement the Avaya IP Office Platform, Avaya Contact Centre Select offers a robust multichannel solution for intelligent, collaborative customer service, deployable across 150 distributed sites. Add our CTI integration and application enhancements to build your tailored multichannel contact centre.

Blended multichannel capabilities including inbound and outbound voice, email, web chat, SMS and fax
Intelligent call and workflow routing
Real-time and historic reporting
Call recording
Easy CRM and systems integration
Flexible deployment
Avaya IP Office Contact Center Brochure
Learn more about how we can manage and maintain your Avaya IP Office Contact Centre integration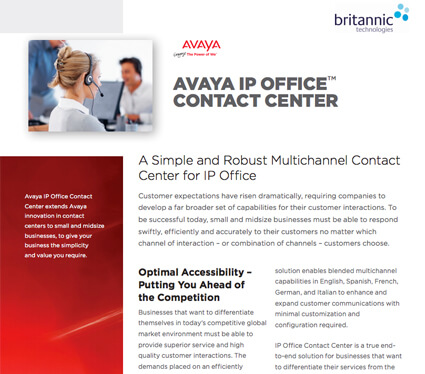 Discover Avaya Contact Centre Solutions
If you would like more information or have a question about how we can help, use the contact form below to send us a message